In 1947 the Department of Natural Resources built the first airstrip at La Ronge. It was located south of La Ronge, just south of the Montreal River bridge, in what is now known as the Northern Village of Air Ronge. It was used by the DNR for mail freight and forest fire patrol. The type of aircrafts initially used were a Norseman, a Beaver, a Stinson and a DC3. These services were eventually taken over by the Government of Saskatchewan under the name of Sask Airways. Soon after this they started scheduled flight services.
In 1947 Saskatchewan pioneered the use of "smoke-jumpers," fire-fighters who were parachuted into newly discovered fires to stop them from spreading. The airport was used by smoke jumpers for forest fire-fighting into the mid 1960's. The new airport is still the home of Northern Air Operations, the Saskatchewan Ministry of Environment Airtanker Base.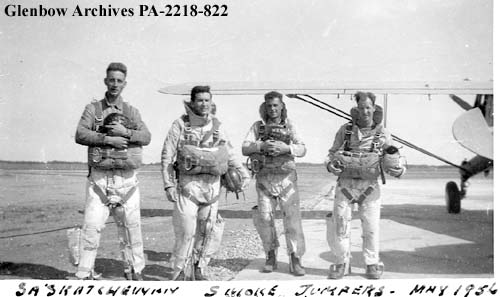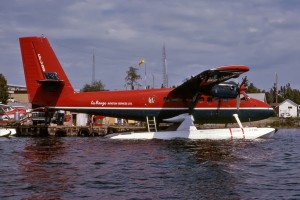 In 1960 La Ronge Aviation built a hangar on the cross strip (the cross strip had been added in 1953). La Ronge Aviation started with a C180 and then expanded their fleet to over 15 aircraft including the Beaver, the Otter and C185s. In 1963 Norcanair bought Sask Airways and operated a DC3, a Twin Otter, an Astecs Twin and some C180 – C185s. Most of these aircraft were used as float planes in the summer and were on skis for the winter.
The original airport serviced La Ronge and the north until 1976 when the new airport was constructed by Transport Canada and the Province of Saskatchewan just north of La Ronge. The new airport provided an instrument approach runway and a non-instrument approach cross wind. The 5,000 foot main runway was paved, as were the taxiways and aprons and it was equipped with a 24 hour Flight Service Station.
In the same year Norcanair moved to the new airport with a temporary terminal building. La Ronge Aviation and Athabaska Airways also built hangers. Then in 1977-78 the Government of Saskatchewan built a large hangar to service their water bomber fleet and operated out of their tanker base on apron III at the north end of the airport. At this time Woodland Aero also built a hangar bringing the total to four hangars. Later Norcanair was bought in 1982 by High Line Airways which operated a scheduled service to La Ronge and other points north.  Then in 1986 High Line was bought out by Time Air operating with a Dash 7 aircraft.
In 2000 La Ronge Aviation and Athabaska Airways merged to form Transwest Air. Transwest Air operates out of the airport to this day providing scheduled flights, charters, medivacs and helicopter services . In 2008 Osprey Wings expanded their company to include an IFR Division operating from the airport with 300 series Twin Otters, 1900D, and B200 aircraft. Two large hangars were built to facilitate maintenance and storage.
A new terminal building combined with a Flight Service Station cap was opened in 1988. The new terminal building services scheduled flights, charter flights, as well as many visiting tourists and itinerant traffic. The following year Shell Mobil established a refuelling service supplying jet and avgas. As of 2016 Snowbird Petroleum also provides refuelling services.
In December of 2015 West Wind Aviation purchased Osprey Wings' IFR Division including two hangars and the fleet based here. Today Transwest Air and West Wind Aviation have ticket counters in the terminal building to handle passengers, clients and baggage. The La Ronge Airport has been operated by Transport Canada, the Saskatchewan Government Department of Highways and Transportation , and is presently owned and operated by the Town of La Ronge.